Brasada Ranch
Overview
Book your Preferred Golf experience at this resort now!
Book Now
Book the Preferred PlayMore Offer for Daily Golf for Two or a US$75 Resort Credit
Reasons to Stay
Brasada Canyons offers amazing golf, top-notch service, and a front row seat to the natural wonder of Central Oregon.
As the name suggests, 18 distinctive and challenging holes wind through, across, and along the canyons of Brasada Ranch, beginning from 3,272' above sea level and climbing to just over 4000'. Here your ball soars farther, as does your eye, with dramatic, unmatched views of snowcapped Cascade Mountains from nearly every hole.
Designed by native Oregonain Peter Jacobsen and Jim Hardy, the course just outside Bend is undeniably one of Oregon's most beautiful and enjoyable.
Brasada Canyons is heralded for its privacy, as play is reserved for Members and Resort Guests.
Choose from the luxurious Ranch House Suites or 2 to 3-bedroom Sage Canyon Cabins, and enjoy the world-class amenities of Brasada Ranch, one of just three Preferred Hotels & Resorts in Oregon.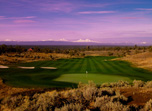 Playing more golf at the world's finest resorts is an opportunity worth taking. Enjoy daily golf for two or a $75 resort credit in lieu of a round of golf when you book this offer.
Book Now